The Wayne Technical Fanatics owns and operates the Megalink Reflector for D-STAR and YSF/C4FM. The reflector is an open, public access reflector system to the entire worldwide ham community. The reflector is hosted on a Raspberry Pi at our Doylestown repeater site and is running the XLXD Reflector software. Hosting the reflector on site allows us to interlink repeaters at various locations on our private microwave network without relying on the Internet.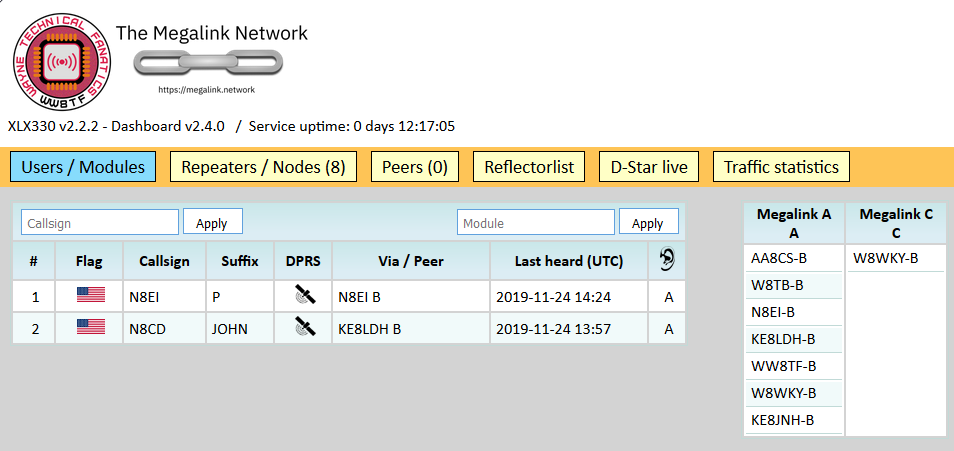 It is registered as node 330 on the XLX/XRF registry. All Pi-Star-based repeaters and hotspots can access the reflector as DCS330, XRF330, REF330, and XLX330 (XLX supported by Pi-Star 4 only). The reflector supports all D-STAR linking protocols – DPlus, DExtra, and DCS with DCS being the recommended protocol if available.
It is registered as two YSF Rooms via the "YSF" type of WIRES-X gateway. Joining 83603 will connect automatically to XLX330 Module A (equivalent to DCS330A). Joining 63340 will connect automatically to XLX330 Module C (equivalent to DCS330C).
The reflector is a transcoding reflector which means it supports simultaneous transmission of D-STAR and YSF signals on module A. The reflector also transcodes module A to Brandmeister TG 311070.
The reflector has all 26 modules enabled (A-Z). WTF's repeaters and hotspots are found on module C. SARA's and WARC's repeaters are found on module A when linked.
Other D-STAR repeater operators who wish to link their repeaters and hotspots but don't want the hassle of running a stable reflector are welcome to use the Megalink Reflector without advanced coordination or arrangement. WTF appreciates your use of D-STAR. We are happy to name a channel after your group if you want to drop us a note.